Peng Zhang
Our mission
Stony Brook Power Lab's mission is to provide groundbreaking technologies to cost-effectively modernize America's power and energy infrastructures which cannot be achieved by existing technologies. My research focuses on building a software-defined smart grid, the future gigabit infrastructure integrating software-defined networking (SDN), real-time edge computing and Internet of Things (IoT) technologies to enable a scalable, self-configurable, plug-and-play next generation smart grid capable of coordinating the flows of power/data and cultivating America's smart communities and smart cities.
We have received a total of $44 million funds (in most cases jointly) as of today.
Completed projects
NSF Convergence Accelerator–Track D: AI-Enabled Provably Resilient Networked Microgrids. NSF. PI: Peng Zhang.

Quantum Grid: Empowering a Resilient and Secure Power Grid through Quantum Engineering. OVPR QIST Seed Grant. PI: Peng Zhang.

SCC: Empowering Smart and Connected Communities through Programmable Community Micrtogrids. NSF. PI: Peng Zhang.

US Ignite: Focus Area 1: SD2N: Software-Defined Urban Distribution Network for Smart Cities. NSF. PI: Peng Zhang.

Enabling Reliable Networked Microgrids for Distribution Grid Resiliency. NSF. PI: Peng Zhang.

Formal Analysis for Dynamic Stability Assessment of Large Interconnected Grids under Uncertainties. DOE.

Modeling, Analysis and Anomaly Detection for Cyber Secure Eversource Power Distribution Networks. Eversource Energy.

Safe, High Energy and Power Density Fuel Cells and Batteries, with Underwater Wireless Recharging Capability. ONR.

Assess the Impact and Evaluate the Response to Cybersecurity Issues (AIERCI). DOE.

Grid-Side System Enhancements to Integrate Distributed Energy Resources, Phase II. Eversource Energy.

Eversource Energy Testbed. Eversource Energy.

Scholarship Facilitation Award: SD2N: Software-Defined Urban Distribution Network for Smart Cities. UConn.

Academic Plan: Level 1: Software-Defined Smart Grid. UConn OVPR.

Energy Storage System Pilot Project. Eversource Energy.

Enabling Highly Resilient and Efficient Microgrids through Ultra-Fast Programmable Networks. NSF.

Grid-Side System Enhancements to Integrate Distributed Energy Resources, Phase I. Eversource Energy.

Evaluation of Grid Resilience Activities with a Total System Performance Assessment Model. Eversource Energy.

Unintentional Islanding & Frequency Response Analysis. Eversource Energy.

Rural Communities Energy Assurance Program. USDA/CCAT.

Assessment of the GridLink Technology. Pareto Energy/GE.

WiFi-Enabled Plug-in Multi-Outlet Adapter. DOE.

Evaluation of Selective Hardening Options. Northeast Utilities.

Reliability Evaluation and Enhancement of Synchronized Phasor Network. DOE.

Smart Building Smart Grid: A Cyber-Physical Approach Supplemented by Augmented Reality. UConn.

Critical Technologies for Grid Integration of Electric Vehicles–Moving Towards Sustainable Transportation and Smart Grid. DOT.

Risk in Wide Area Measurement and Control System and Its Impact on Power System Reliability. UConn.
Programmable microgrids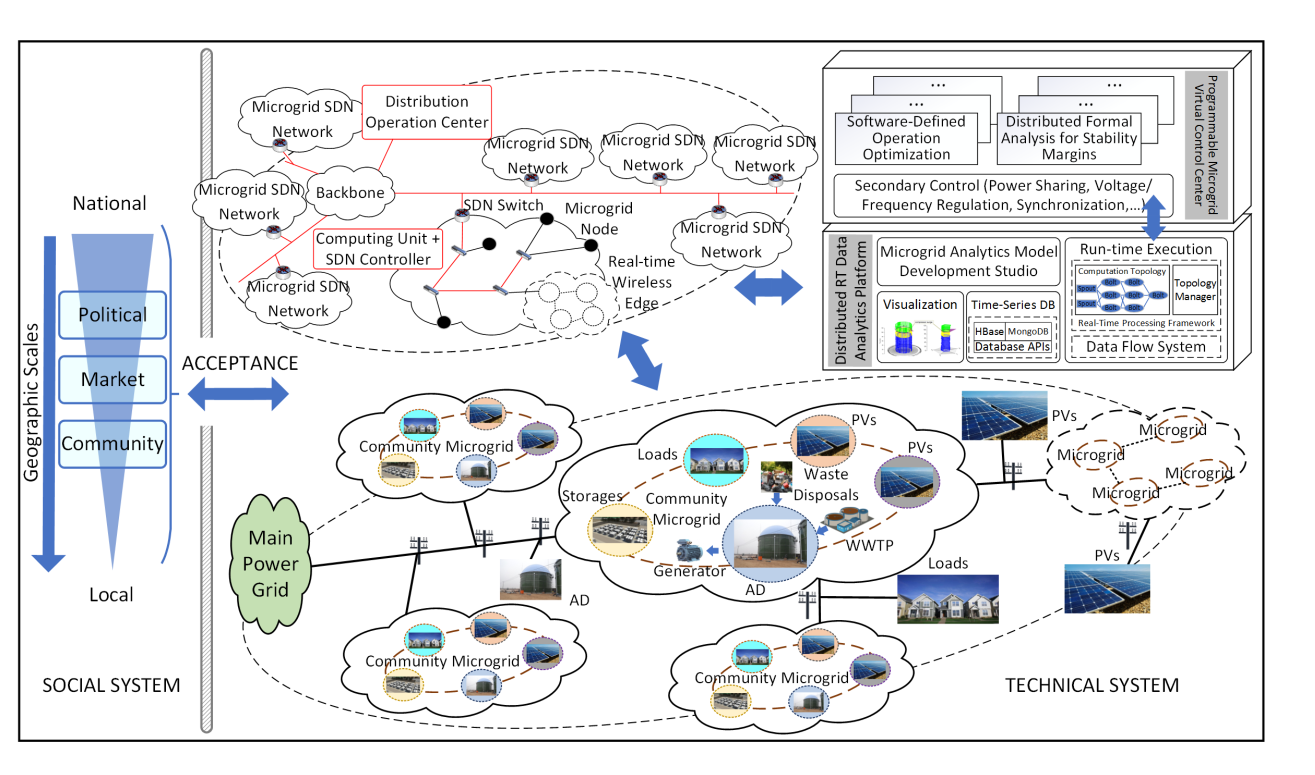 The keystone of smart & connected communities (S&CCs) is a resilient electric network which supports critical infrastructures and other functions vital for citizens. Existing electric networks, however, can hardly sustain the ever-increasing demand of growing communities. Furthermore, distributed energy resources (DERs), such as photovoltaics (PVs) increasingly installed in U.S. communities, fail to improve electricity resilience, because they cannot ride through sustained grid contingencies. Adding to these challenges, extreme weather events and cyber-attacks can potentially lead to catastrophic blackouts. Microgrids have proved to be a promising paradigm for electricity resiliency. Unfortunately, transforming community power infrastructures to truly smart microgrids remains prohibitively difficult due to dependence on hardware; limited, unscalable analytics; and broader digital surfaces vulnerable to cyber-attacks. The main objective of this research is to create smart programmable microgrids (SPMs). Our key innovation is to virtualize microgrid functions, making them software-defined and hardware-independent, so that converting DERs to community microgrids becomes affordable, autonomic, and secure.

To achieve our main objective, our team will:
Architect a programmable microgrid platform for virtualizing traditionally hardware-dependent microgrid functions as flexible software services, fully resolving hardware dependence issues and enabling unprecedentedly low costs.
Pioneer a concept of software-defined operation optimization for microgrids, where operation objectives, grid connection, and DER participations will be defined by software and plug-and-play, and can be quickly reconfigured, based on the development of modularized and tightened models and a novel asynchronous price-based decomposition-and-coordination method;
The proposed SPM will be demonstrated on a real-world community microgrid through a recently built cyber-physical testbed. This project will provide groundbreaking, replicable technologies to modernize cost-effectively America's energy infrastructures in the S&CC and could transform today's community power infrastructures into tomorrow's flexible services towards self-configuration, self-healing, self-optimizing, and self-protection.
Software-Defined Distribution Network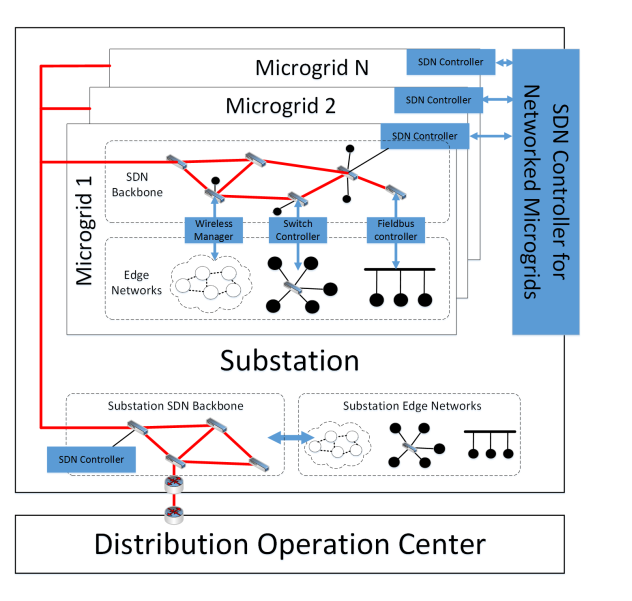 Urban areas, where more than 80% of US population lives and 80% of energy is consumed, are developing into smart, connected communities. At the heart of city infrastructures is the urban power distribution network, which supports various systems including government, safety, water, food, transportation, communication, and other functions vital to the lives and work of citizens. Current urban distribution networks were not designed for smart cities, and cannot sustain the ever-increasing demands from urban growth in the face of substantial increases in renewable generation and extreme weather-induced blackouts. Lack of a scalable and high-speed communication and computing infrastructure is a key bottleneck. This project will architect a novel Software-Defined Distribution Network (SD2N), a gigabit networking and computing platform to enable a sustainable and resilient electric power Internet for smart cities. SD2N will manage a vast number of smart grid devices, allow self-adaption, self-management and self-healing without costly hardware upgrades, and provide a sustainable, scalable and replicable smart city backbone infrastructure.

The main research objectives include:
Architect SD2N. Our lab will prototype a scalable, self-reconfigurable, plug-and-play platform to coordinate the flows of power/data to and from large urban distribution networks with ubiquitous integration of intermittent renewable energy sources.
Develop SD2N-enabled distributed optimization algorithm for distribution networks. The goal is to mitigate the impact of high penetration of renewable energy resources while maximizing system efficiency under normal operations. This requires incorporating current network states and forward-looking information into a distributed optimization process.
The innovation of the project lies in integrating Internet of Things technologies, software-defined networking and real-time computing to establish a scalable SD2N architecture. It will combine a hybrid software-defined networking infrastructure and a distributed real-time computing framework with advanced optimization to enable self-configuration, scalable monitoring, real-time data streaming, processing, storage and feedback while tackling the stringent data availability and multi-latency requirements in managing urban distribution networks. The proposed SD2N architecture will enable coordinated economic dispatch of microgrids to significantly reduce their carbon footprints and total operation costs while supporting smooth, grid-friendly renewable energy penetration. It will also enable shared electricity services among connected communities, leading to resilient energy service for smart cities. An SD2N prototype, to be established in Stony Brook University's hardware-in-the-loop real-time test bed, will offer valuable resources for research communities, as well as the energy and IT industries.
Reliable Networked Microgrids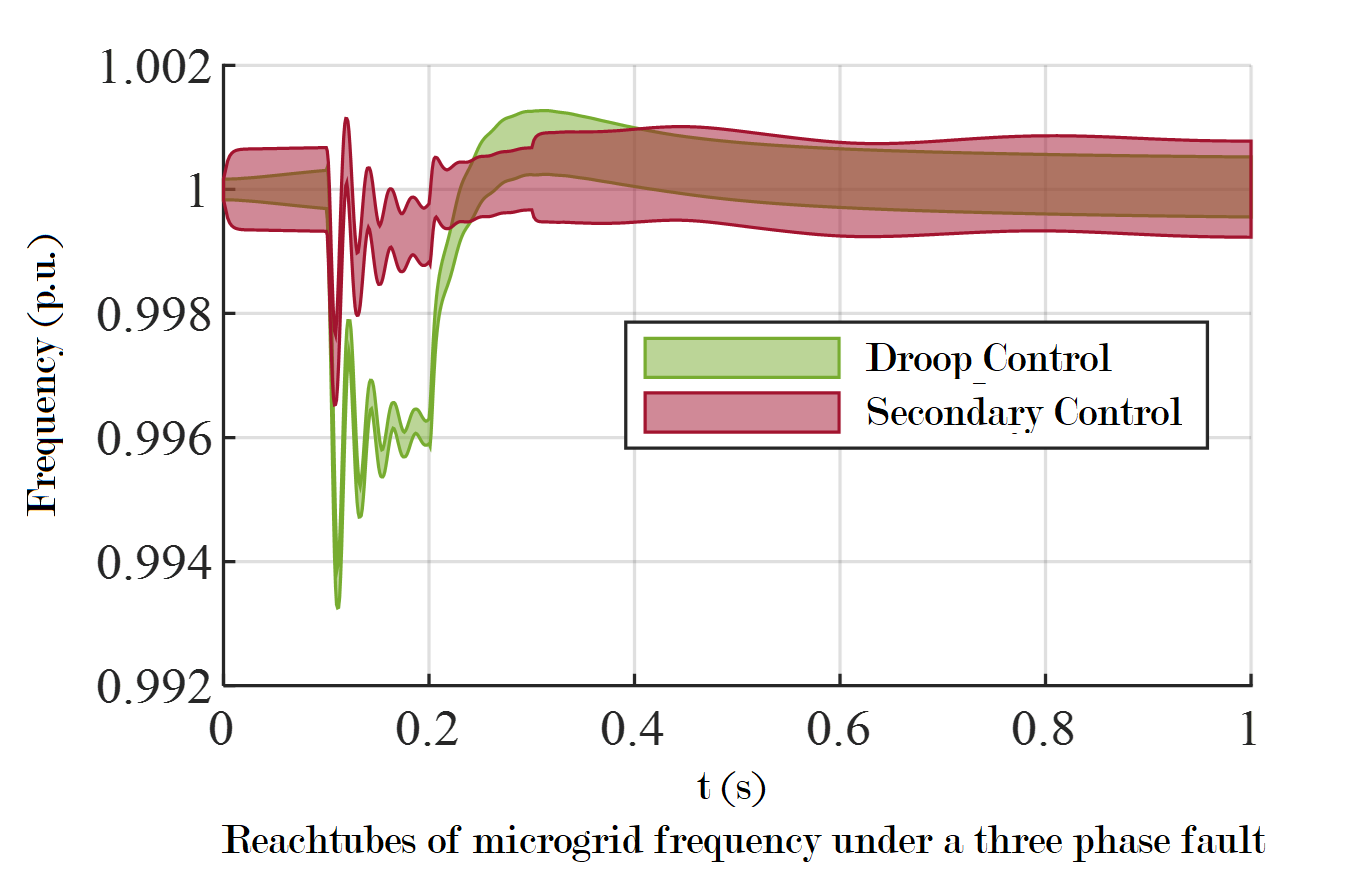 This research investigates novel approaches to promote reliable networked microgrid operations in the face of various cyber and physical disturbances. Power distribution grid resiliency is a challenging problem with significant economic and security impacts that has been exacerbated in recent years by the increase in extreme weather events and cyber threats. Recently, networked microgrids have become an emerging paradigm that demonstrates resiliency benefit to their local customers. However, lack of awareness of stability margin, inadequate capability to respond to grid disturbances, and vulnerabilities to communication failure, delay, and cyber-attacks can undermine the capability of networked microgrids to improve distribution grid resiliency.

The research project will create and implement networked microgrids solutions on a novel cyber infrastructure to ensure distribution grid resiliency. This cyber infrastructure is based on Software-Defined Networking (SDN). Specifically, the research has three main objectives:
Establish a formal analysis method to tractably assess networked microgrid stability.

Devise a new concept of microgrid active fault management (AFM) enabled through online distributed optimization.

Build a Software-Defined Networking (SDN) based architecture to enable highly resilient networked microgrids.
Our research will contribute new formal analysis theories for deeper understanding of microgrid stability under high levels of renewable generation. The idea of integrating distributed optimization and power electronic control will pave the way for building grid-friendly networked microgrids, significantly contributing to grid resiliency. The novel SDN-based architecture and techniques will open the door for innovations in devising secure, reliable, and fault-tolerant algorithms for managing resilient networked microgrids and active distribution networks.
Surely it is not knowledge, but learning; not owning but earning; not being there, but getting there; that gives us the greatest pleasure.
--Carl Friedrich Gauss